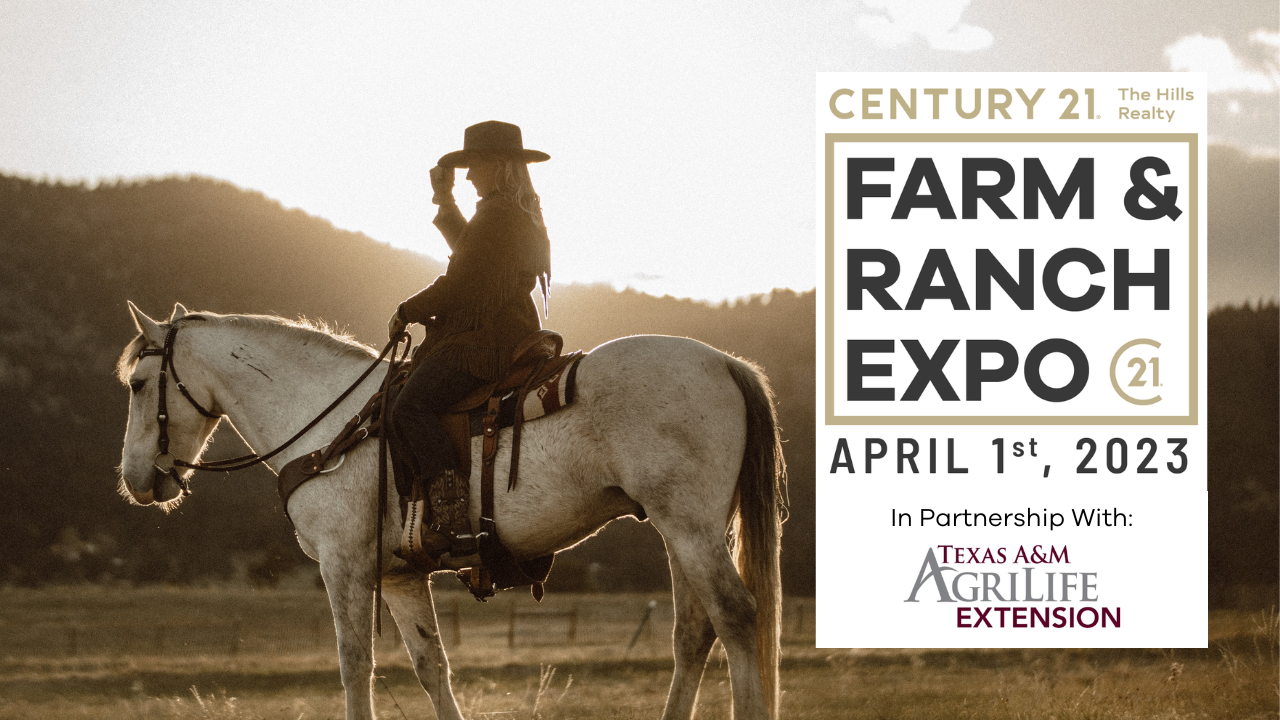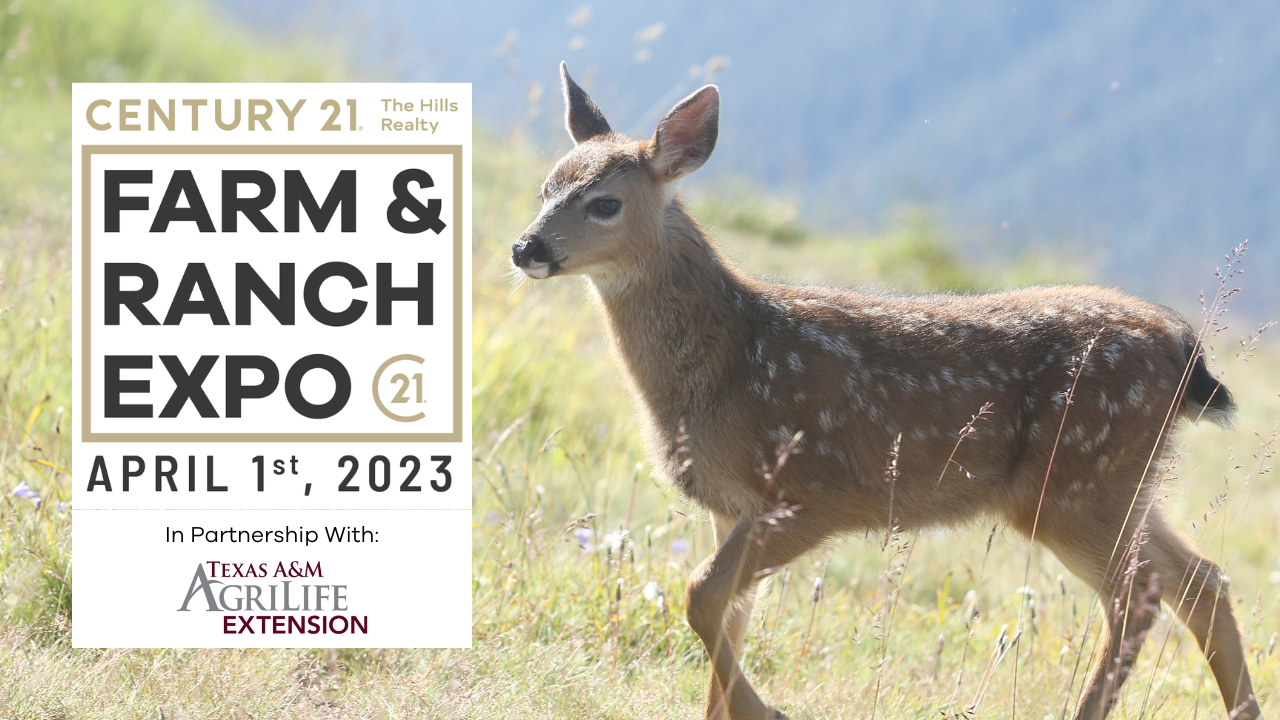 SATURDAY, APRIL 1st 2023
HILL COUNTRY YOUTH EVENT CENTER, KERRVILLE, TEXAS 78028
FREE AND OPEN TO THE PUBLIC
INDUSTRY LEADING EXPERTS
DOOR PRIZES & FREE GIFTS
The first 150 people to RSVP, will receive a complimentary lunch voucher to be used at one of 4 food trucks and will be entered into the grand prize drawing!
CENTURY 21 The Hills Realty Farm & Ranch is proud to present our second annual Farm & Ranch Expo. Through our partnership with the Texas A&M AgriLife Extension office, this event is sure to be even bigger and better than last year. Our multiple, National-Level Speakers will be discussing important topics such as: AG Tax Valuations, Oak Wilt prevention, Fence Law and more. In addition, we will have dozens of Land related vendors and several food truck options, followed by a Happy Hour.
Keynote Speakers
Last year we had an incredible lineup of speakers to share valuable information with you and this year is no different! We've managed to book some of the best experts in the Ag industry!
Naturescapes
Oak Wilt & Tree Diseases.

Naturescape has provided high-quality lawn care, tree care, and pest services to the Hill Country since 1988. Their services focus on specially-formulated, high-quality applications, which produce the healthiest lawn & trees possible. Their certified arborists and licensed technicians focus on preventative care and believe that thick, lush, healthy trees and lawns are the best defense against all potential pest problems.
Plateau Land & Wildlife Management
Land Ag Valuations
Owning agricultural or timber land in Texas means having an asset anyone would be proud of. If you're ready for an option that makes caring for your property easier, and keeps your tax benefits too, Plateau Land & Wildlife Management can help. For more than two decades they have been making it simple for landowners like you to turn Ag or Timber Valuation land into private, beautiful, tax-advantaged wildlife property.
Jim Bradbury
Relevant Ag Law Issues
Mr. Bradbury is a recognized authority on agricultural law as well as eminent domain and has extensive experience in land conservation and helping landowners preserve their ranches. Mr. Bradbury also has significant experience in land use and the environmental aspects of hydraulic fracturing production, including surface use rights, eminent domain, and pipelines.
Upper Guadalupe River Authority
Local Water Resources, Water Testing, and Stewardship
The Upper Guadalupe River Authority is a highly respected steward in managing the watershed and water resources of the Upper Guadalupe River benefiting both people and the environment.
The mission of the Upper Guadalupe River Authority is to protect, develop, and manage the water quantity, quality, and sustainability in the Guadalupe River watershed in Kerr County.
The Nature Conservancy
Fire Safety & Landscaping
Rebecca Neill is the Southern Hill Country Project Director at The Nature Conservancy. The Nature Conservancy has protected land and water in Texas since 1964. To date, they have conserved nearly one million acres of land and more than 200 miles of rivers and streams.
8:30 AM
Open Vendor Hall – Meet Dozens of Vendors
Time
Speaker
Topic
9:30 AM
Naturescapes
Oak Wilth and other Tree Illnesses
10:45 AM
Plateau Land & Wildlife
AG Land Valuation and Simplfying & Enhancing Land Ownership
1:00 PM
UGRA
Local Water Resources, Water Testing, and Stewardship
2:15 PM
The Nature conservancy
Prescribed Burn, Brush Piles, and Firewise Tips for Land Owners
3:40 PM
Jim Bradbury
Today's most relevant Farm & Ranch Law Issues
4:50 PM
Happy Hour – Lands.com
5:30 PM
Conclusion